Kunle Remi, Toke Makinwa argue over Saro in Kunle Afolyan's Anikulapo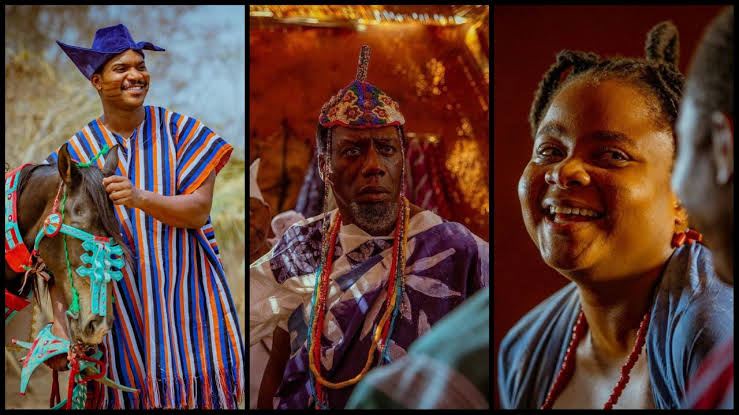 Media personality Toke Makinwa and actor Kunle Remi got into a friendly argument over Saro, a role that the latter played in Kunle Afolayan's film Anikulapo.
The drama began when Kunle's love interest Bimbo Ademoye posed a question to her fans about her character in the film.
The protagonist of Anikulapo is Saro, a travelling cloth weaver (Kunle Remi), who was murdered after having an affair with the Alaafin's youngest wife, Arolake (Bimbo).
He is brought back to life by a fabled bird, who also leaves behind a gourd that has the ability to resurrect the dead.
Following their performances in the film, which many have praised as "challenging" and "well interpreted," Kunle and Bimbo became a hot topic on social media.
Others, however, thought Arolake deserved better and was not smart enough to use the magical powder she gave to Saro after he "betrayed" her instead of allowing herself to become a victim.
An inquisitive Bimbo took to Instagram on Monday to engage her followers in light banter, asking them to share their thoughts on which character was the true victim.
She wrote: "Guys quick one, who is the victim? Saro or Arolake? Because I'm seeing some tweets saying fear women. Fear women, fear women how? So over to you guys, if you feel Arolake is the bad guy please comment 'fear women'. If you think it's Saro please comment 'men are scum.'"
As expected, several celebrities and fans stormed the comment section of the post to share their thoughts. While some supported Arolake, others threw their weight behind Saro.
Media personality Toke Makinwa wrote: "You dey trust man? Adam? Adam?"
Responding to her statement, Kunle Remi wrote: "Adam no trust Eve? No be there wahala start?"
"Not at all, he should learn to control himself," Toke responded.