Toyin Abraham sends message to Tinubu's critics over workout video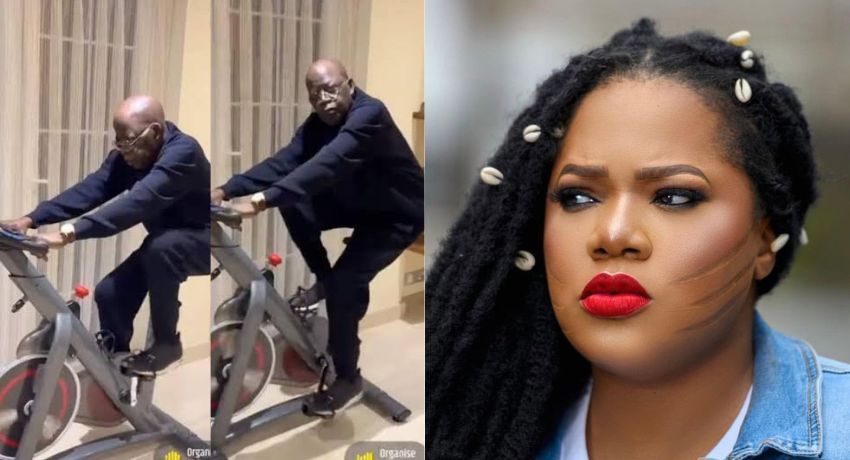 Toyin Abraham-Ajeyemi, a Nollywood actress and filmmaker, has reacted to the recent workout video of All Progressives Congress presidential candidate Bola Tinubu, in which he clearly stated that he is strong and healthy, dismissing rumours of his death.
In a tweet, the former governor of Lagos State also denied rumours that he had dropped out of the race for president in 2023.
A video that accompanied the tweet showed him exercising on a fitness bike. Written by Bola Ahmed Tinubu
"Many have said I have died; others claim I have withdrawn from the presidential campaign. Well… Nope.
"This is the reality: I am strong, I am healthy and I am READY to serve Nigerians from Day One."
In response to this, Toyin Abraham, who insisted she is not supporting Tinubu, posted the same video on her verified Instagram page and insisted through her caption that the APC presidential candidate is in fact healthy.
Bola Tinubu should be given the benefit of the doubt, especially in light of his health, the mother of one urged her followers. Toyin Abraham wrote:
"What else does Tinubu need to do to prove that he is not dying today? I am not campaigning for any candidate, just jumping on trending topic o. I am just a responsible citizen with PVC and power to chose who to vote for."
You might remember that after Tinubu skipped the peace agreement that the 2023 presidential candidates signed, questions were raised about his whereabouts.
However, he was represented at the event by Kashim Shettima, his running mate and the former governor of Borno State.
Ayo Oyalowo, a member of the APC's presidential campaign council, explained the flagbearer's absence by saying Tinubu had travelled to London to take a break.
However, it is unclear whether the video the presidential candidate posted on Twitter was shot in London or at his residence in Lagos.